Getting in Touch with Sellindge Surgery
We are aware there are significant problems getting through to us on the phone, we are sorry and we would like to explain why it is difficult.
Many GP surgeries across the country are in a similar position. We understand how frustrating it can be for it to take longer than normal.
We would like to assure you we are working hard to resolve the situation.
There are three things that are challenging us:
There has been an unprecendented post-lockdown increase in demand. Part of this is because many of our patients have been managing health issues themselves rather than contacting a doctor over the last year and some hospital procedures and appointments have been necessarily delayed. As confidence in general is returning, patients are now quite rightly contacting us.
We have been heavily involved in delivering the country's largest ever vaccination campaign.
We have had to change the way we work to keep things safe for our patients and our staff.
What can you do to help?
Choose well - Can a pharmacy help your symptoms? Or call 111 if you are unsure which sort of treatment you need. Or visit 111.nhs.uk
Download the NHS App. You can use this to book or cancel appointments; Order repeat prescriptions; Check any symptoms or treatment you may need.
Use our online E-Consult service. We have a informative video below and if you click the image (located with the video) you will be able to access it.
Cancel appointments you no longer require.
It's useful to remember our teams are on the front line and see both the best and worse of us all. They work incredibly hard to help patients navigate the system, but may not be able to offer you exactly what you want at all times.
Please be patient and courteous, they want to find the best solution as much as you do.
We are grateful for your understanding.
GP Partners and Practice Manager.
Zero Tolerance Policy
The practice fully supports the NHS Zero Tolerance Policy. The aim of this policy is to tackle the increasing problem of violence against staff working in the NHS and ensures that doctors and all other staff have a right to care for others without fear of being attacked or abused.
We understand that ill patients do not always act in a reasonable manner and will take this into consideration when trying to deal with a misunderstanding or complaint. We ask you to treat your doctors and all other staff courteously and act reasonably.
All incidents will be followed up and you will be sent a formal warning after a second incident or removed from the practice list after a third incident if your behaviour has been unreasonable.
However, aggressive behaviour, be it violent or verbal abusive, will not be tolerated and may result in you being removed from The Practice list and, in extreme cases, the Police will be contacted if an incident is taking place and the patient is posing a threat to staff or other patients.
Removal from the practice list
A good patient-doctor relationship, based on mutual respect and trust, is the cornerstone of good patient care. The removal of patients from our list is an exceptional and rare event and is a last resort in an impaired patient-practice relationship. When trust has irretrievably broken down, it is in the patient's interest, just as much as that of The Practice, that they should find a new practice. An exception to this is on immediate removal on the grounds of violence e.g. when the Police are involved.
Removing other members of the household
In rare cases, however, because of the possible need to visit patients at home it may be necessary to terminate responsibility for other members of the family or the entire household. The prospect of visiting patients where a relative who is no longer a patient of the practice by virtue of their unacceptable behaviour resides, or being regularly confronted by the removed patient, may make it too difficult for the practice to continue to look after the whole family. This is particularly likely where the patient has been removed because of violence or threatening behaviour and keeping the other family members could put doctors or other staff at risk.
Patients registered historically who live outside of the Sellindge Surgery practice boundary
You will have recently received a letter from us regarding our practice boundary and patients who live outside it.
Please note that it is not mandatory for you to register with an alternative practice. The letter was intended to highlight that you do live outside our boundary area and that you may wish to consider registering with a GP practice who will be able to provide you with closer, more local access to GP services that meet your needs.
Welcome to the Sellindge Surgery
We are a small dispensing practice offering a personal, friendly service to our patients situated in the village of Sellindge.
We accept patients from Sellindge, Brabourne, Smeeth, Aldington, Mersham, Stowting, Stanford North, Hinxhill and Newingreen and surrounding villages.
Sellindge surgery offers easy access for wheelchair users with designated parking bays close to the front door. All consulting rooms are on the ground floor and the disabled toilet is adjacent to the waiting room.
The surgery is within the Kent & Medway CCG.
Please note all incoming and outgoing telephone calls are recorded for training and development purposes.
Need urgent medical help? Call NHS 111 or visit 111 online to be directed to the most appropriate service. Urgent treatment centres deal with minor injuries and illnesses.
Please click the below link for further advice on places to go within Kent and Medway.
Local services :: Kent and Medway Clinical Commissioning Group (kentandmedwayccg.nhs.uk)
Supporting you to live well in Kent
PLT Afternoons
Please note that the surgery will be closed on the following afternoon from 1pm for mandatory staff training. The surgery will reopen from 8am the following working day.
Wednesday 2nd November 2022

Tuesday 7th February 2023

Tuesday 7th March 2023

Tuesday 17th May 2023

Tuesday 6th June 2023

Tuesday 4th July 2023

Tuesday 8th August 2023

Tuesday 5th September 2023

Tuesday 3rd October 2023

Tuesday 7th November 2023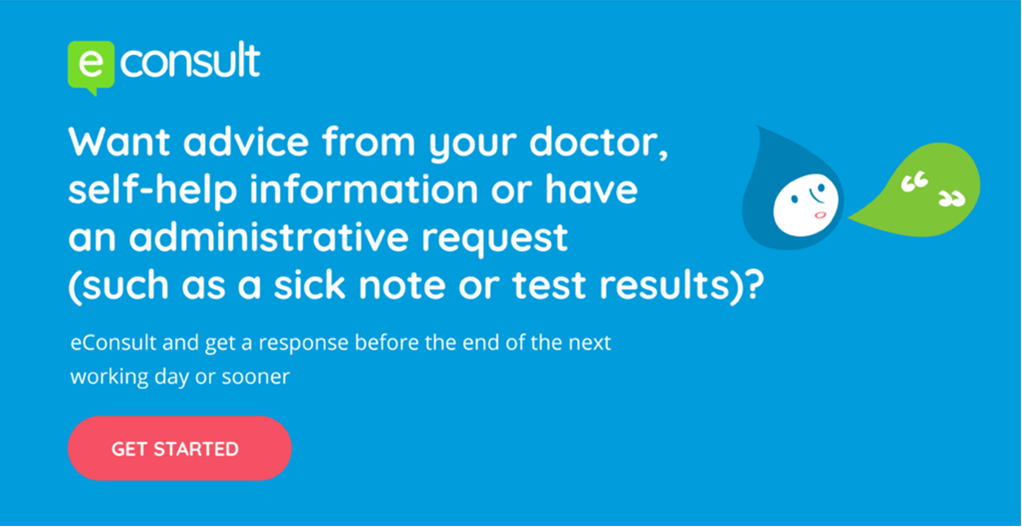 Register for Online Services
Our practice now offers a wide range of services through our website, register to gain access.
If you require urgent care, NHS 111 or NHS 111 online is there for you 24 hours a day. Pharmacists are experts in medicines and can help you with minor health concerns. You can find out opening hours of pharmacies near you on: https://www.england.nhs.uk/south-east/our-work/pharmacy-opening-hours/
Stop, Think and Choose
The NHS is encouraging people to make sure they know where to go for health help.
Dame Eileen Sills, (Chief Nurse at NHS Kent & Medway), Said: "It's important to come forward with any health concerns but you can help ease the pressure by choosing the right service. Knowing the right place to go can help you get the treatment you need faster. Please choose wisely and help us, help you."
With schools shut for the summer, the holidays can be a busy time but help is at hand from NHS 111, online and by phone, and with www.stopthinkchoose.co.uk
Stop, Think and Choose helps patients make an informed choice about the best service for them by listing the range of available options, including details on Kent and Medway pharmacies, Urgent Treatment Centres (UTCs) and Minor Injury Units (MIUs).
UTCs and MIUs can treat a variety of minor illness and injury. Patients can either walk in or call NHS 111 to get a same-day appointment booked.
Pharmacists provide expert, free, confidential advice on health issues. You can simply turn up and ask for advice with no prior appointment.
Please note that once the surgery is at full capacity the Reception team are advised to direct any patients that are in need of on the day medical treatment to NHS 111 for an UTC appointment. The UTCs are GP lead and are open 7 days a week from 8am to 8pm.
GP Training Afternoons
Please note that the surgery will be closed on the following afternoon from 1pm for mandatory staff training. The surgery will reopen from 8am the following working day.
Wednesday 2nd November 2022

Tuesday 7th February 2023

Tuesday 7th March 2023

Tuesday 17th May 2023

Tuesday 6th June 2023

Tuesday 4th July 2023

Tuesday 8th August 2023

Tuesday 5th September 2023

Tuesday 3rd October 2023

Tuesday 7th November 2023